Wolvennest
+
Bockreiter
+
Partikul
+
MATER SUSPIRIA VISION Shazzula
(AF/BE)
Psychedelic / Ambient / Dark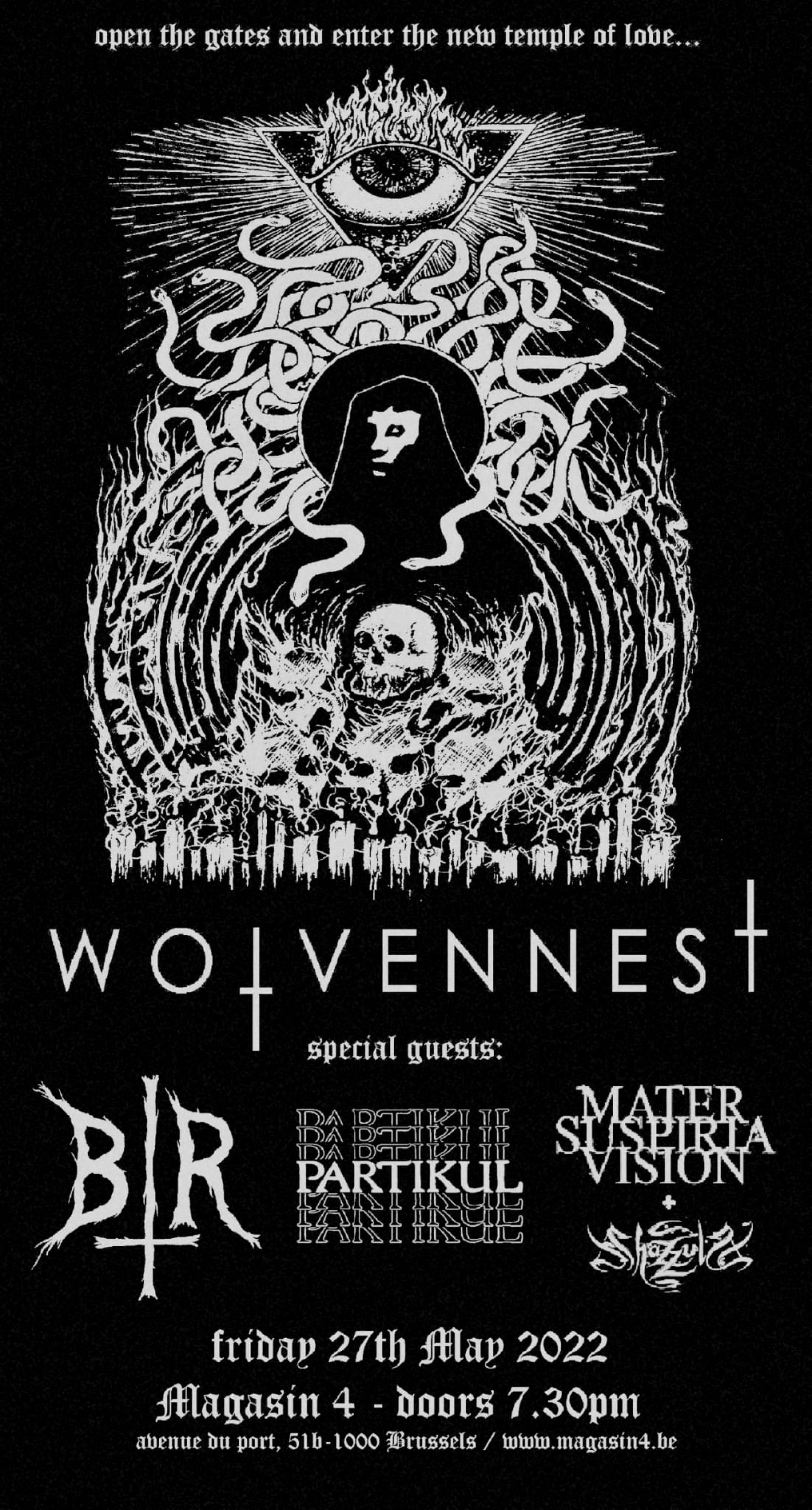 Presales (12 euros) by mail: elektrocutionrecord@hotmail.com
Or at Elektrocution shop, (rue des Pierres 37, near Ancienne Belgique)
15 euros at doors
»
Wolvennest
(Psychedelic / Ambient / Dark / Rock)
After 6 years, it was time for Wolvennest to enter the cult venue Magasin 4 again. Formed in 2013 by Michel Kirby, Marc De Backer and Corvus Von Burtle, the trio released a first full length in collaboration with Austrian veterans Der Blutharsch in 2016 through Weme Records. This weird album got in the radar of occult German label Van records, that repressed it and is since then Wolvennest collaborator for every release. Joined soon after by a solid live line up, the band found in Shazzula its voice and synth/theremin magician. In 2018, Wolvennest released their sophomore "Void" in 2018. Thanks to this album, Wolvennest toured Europe twice and had the chance to perform it, fully, at Roadburn 2019 edition. The "Vortex "EP was released the same year. 2021 proved to be, despite the "no live music era", a busy year for the Wolvennest collective: a double album (Temple), a live album (live in Ancienne Belgique) and a collaboration under the "Nest" banner, featuring long time friends from the Occult European circle. The sextet, regularly joined by their producer Déhà on stage, will hit Magasin 4 and and be able to present the album "Temple" for the first time in Brussels. While it's not a release party per se, it sure looks like it.
...
»
Bockreiter
(Doom / Metal)
Blackened doom metal with (former) members of Spectre, Absolutus, Humanitas Error Est and Garden of Decay. Listen to Bockreiter first demo "the pandemic demo recordings 2020" on bandcamp...it's a blast!!!
...
»
Partikul
(Dark-pop / No Wave)
" ...In the eighties Belgium was one of the leading countries in the field of electro with bands such as Front 242, The Klinik, Vomito Negro… Today it is still the case. The Brussels band Partikul is one of the standard bearers of the contemporary electro scene. Since 2019, Aly and Stef have been making dark electro influenced by Lydia Lunch, Boy Harsher, Tuxedomoon, Nitzer Ebb, The Smiths, Moon Duo and The Soft Moon... "
...
»
MATER SUSPIRIA VISION Shazzula
(Experimental)
Mater Suspiria Vision a mysterious visual arts / experimental / witch house collective around film maker Cosmotropia de Xam. Founded by the end of 2009 at the peek of the DIY movement, around a time when the internet and social media was still in an anarchic mode and the collective surprised with their collages of obscure 70s exploitation movies and a sound that was described in 2010 as Witch House. But the collective is more than just a pioneer of a music genre - over the years a massive amount of releases followed that could be filed under Ghost drone, drone, Kosmische Musik or just under Mater Suspiria Vision. Mater Suspiria Vision will be joined for the occasion by long time collaborator "Shazzula", known for being the Wolvennest singer/synth/thereminist, but also for being a mysterious film and video maker (Black Mass Rising, The Essor, videoclips for Electric Wizzard, Bobby Beausoleil). Except the unexpected, with Mater Suspiria Vision, everything is always possible!
...