FÊTE DE LA FÉDÉRATION WALLONIE-BRUXELLES
Monolithe Noir + Driving Dead Girl + Slovenians + Deadline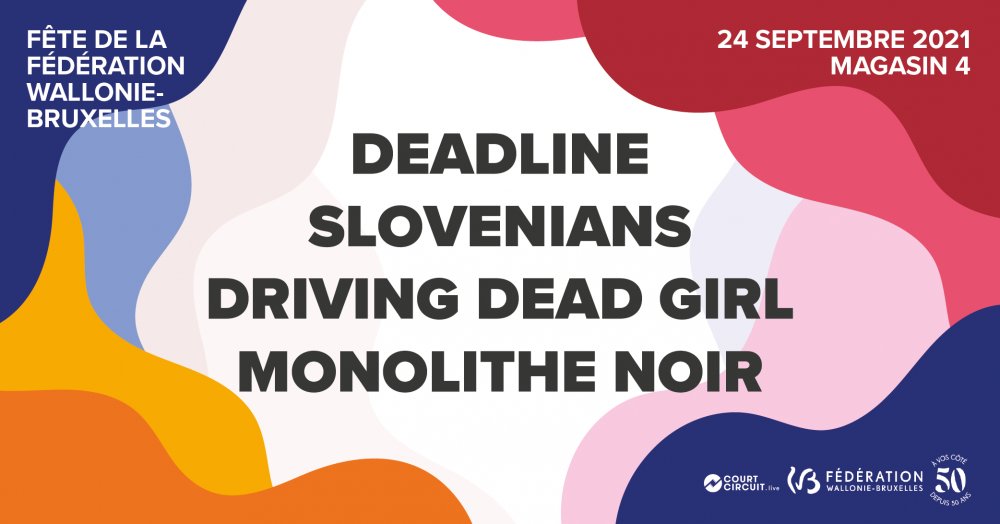 FÊTE DE LA FÉDÉRATION WALLONIE-BRUXELLES
MONOLITHE NOIR + DRIVING DEAD GIRL + SLOVENIANS + DEADLINE
Ce concert utilisera le CovidSafeTicket (ou test PCR de moins de 48h)
Jauge à 500 personnes au lieu de 50
Pas de restrictions sanitaires à l'intérieur
This concert will use the CovidSafeTicket (or a 48h valid PCR Test)
No sanitary restrictions inside the venue
»
Monolithe Noir
(Electronica / Drone)
Monolithe Noir est né d'un sursaut : il fallait en finir avec les pop songs et passer à autre chose, un autre format, fuir la complaisance à tout prix et construire quelque chose à soi. Quelque chose d'indivisible, solide, frontal, opaque même.
En un mot : Monolithique. Le projet se bâtit à force d'expérimentations, d'improvisations et de la découverte de nouveaux outils, montrant un ligne changeante au fil des morceaux. Après deux EP (Holy Divisions & Modern Nothing), sortis sur le tout jeune label allemand KODX, Monolithe Noir décide de dévoiler un à un les 8 titres de « Again with the logistics » afin de leur laisser le temps d'être remodelés, retravaillés au fil des mois. Conçus à Bruxelles en 2015 ces morceaux tirent leur influence de la musique de Laurie Spiegel, Daphne Oram, James Holden, Luke Abott, Bebe and Louis Barron, mais probablement aussi de quelques rares perles pop.
...
»
Driving Dead Girl
(Rock And Roll)
In 2004 and after only a few showcases, Driving Dead Girl is short-listed and takes part in the International Dour Festival, but this was only the first step! Following their forerunners' example, the quartet played several first-parts such as The Rakes, Queen Adreena, Radio4, Tokyo Sex Destruction, Black Angels and many others. Meanwhile, they also recorded a first album: "50,000 Dead Girls Can't be Wrong". Comprising a short selection of only 7 titles, it is recorded under live conditions and mixed in two months fulfilling the then low-end and garage-rock attitude that animated the group.
At this time, Driving Dead Girl also had an exclusive recording contract with "BANG!" which gave them the opportunity to perform all around Belgium and from time to time in France. Unfortunately the then tense atmosphere soon disrupted the shaky organization and both J-F Hermand and André Diaz left the group.

Four years later, after several changes in the band line-up and a neared dead-end, the group finally stabilized. Newcomers Vincenzo Capizzi (drummer) and Dan Diaz (bass player) smashed in, bringing by this very fact a new balance and a new vision to the project. The news spread like a thunderbolt and proposals for concerts and records broke surface again. The band was back on line and the nouveau quartet premièred Black Rebel Motorcycle Club, The Black Angels and Lords Of Altamont . This definitely cemented their brand new stage reputation.

More recently, in January 2010, Driving Dead Girl started the realization of their second album: « Don't Give a Damn about bad Reputation". In only 10 titles, the quartet enjoyed renewed success and confirmed their propensity to play and perform with a brutal energy coping with an original rock musical style wherein cinematographic and literary influences, stamped with broken-hearted sadness and despair, sometimes gave in to alcohol abuse, psyched madness and mal-être.
...
»
Slovenians
(Punk / Rock)
Slovenians is a Belgian punk rock band from Brussels, active since 2012. Known for their blistering delivery and firecracker front man, Slovenians melds punk influences such as The Dead Kennedy's, The New Bomb Turks and Minor Threat with feisty doses of rock 'n roll, blues and garage rock.
A first EP « Frankie Goes To Ljubljana» was released in December 2014. The standout tracks "I'm Not Batman" and "Babysitter" became staples of the best underground rock 'n roll DJ's in Brussels and aired on alternative Belgian radio stations.
In December 2016 Slovenians returned to Studio Six to record « Al Dente » a 13 track album that came out in June 2017 on CD as well as on all major digital platforms.
Tragically, in July 2017, just one month after the release of « Al Dente», their lead guitarist Sinkesh Krištofik was fatally injured in an accident that put the future of the band heavily in doubt.
After a few months of mourning the remaining members gathered and eventually agreed that Sinkesh would definitely want them to carry on. So with the support of their friends and his family's blessing Slovenians started rehearsing again.
A new lead guitarist and long time friend of the singer joined the band and soon they were hitting the stage again, faster, louder and stronger than ever!
Through the intensity of their frantic live performances, Slovenians has built a strong growing base of followers. Don't miss their next show, just go see them play anytime you can!
...
»
Deadline
(Rock And Roll)
Serpents de câbles, micros lo-fi et guitares fétichisées, les influences de Deadline se mêlent et s'entremêlent même titre que leur barda métallique.
Formé en 2013 au Pays Noir (aka Charleroi, Belgique), le trio aiguise d'abord ses cordes sur des riffs punks saturés avant d'être touché par le maléfice de Robert Johnson. Se vouant désormais à une musique obsédée par son héritage, les trois musiciens vous le diront ; ils se savent hantés par les fantômes du blues de la musique roots qui ne cessent de réapparaître.
Laissant le blues imbiber leur patte sonore, Deadline n'en perd pourtant pas moins son noyau dur, empreint de tungstène et de gasoil, résolument gasoline rock.
Non moins schizophréniques, les deux chanteurs antagoniques Quiet Ben et Simon Wray s'échangent ainsi tour à tour leurs instruments sur scène ; guitare, basse, harmonica, dans un duel électrique et sur le jeu de batterie maîtrisé de Simon Blue King.
Depuis sa formation, le groupe a ainsi pu déverser son rock'n'roll dans des salles comme le Rockerill, l'Eden, le Magasin 4, l'Atelier 210, la Nuit du Blues, et l'Humo's Rock Rally.
Leur deuxième EP Those Who Inhabit This Land est sorti en novembre 2018.
...