LA FÊTE DE LA FÉDÉRATION WALLONIE-BRUXELLES
Onmens
+
Spout Big Space
+
Easy Ego
Noise / Electro / Punk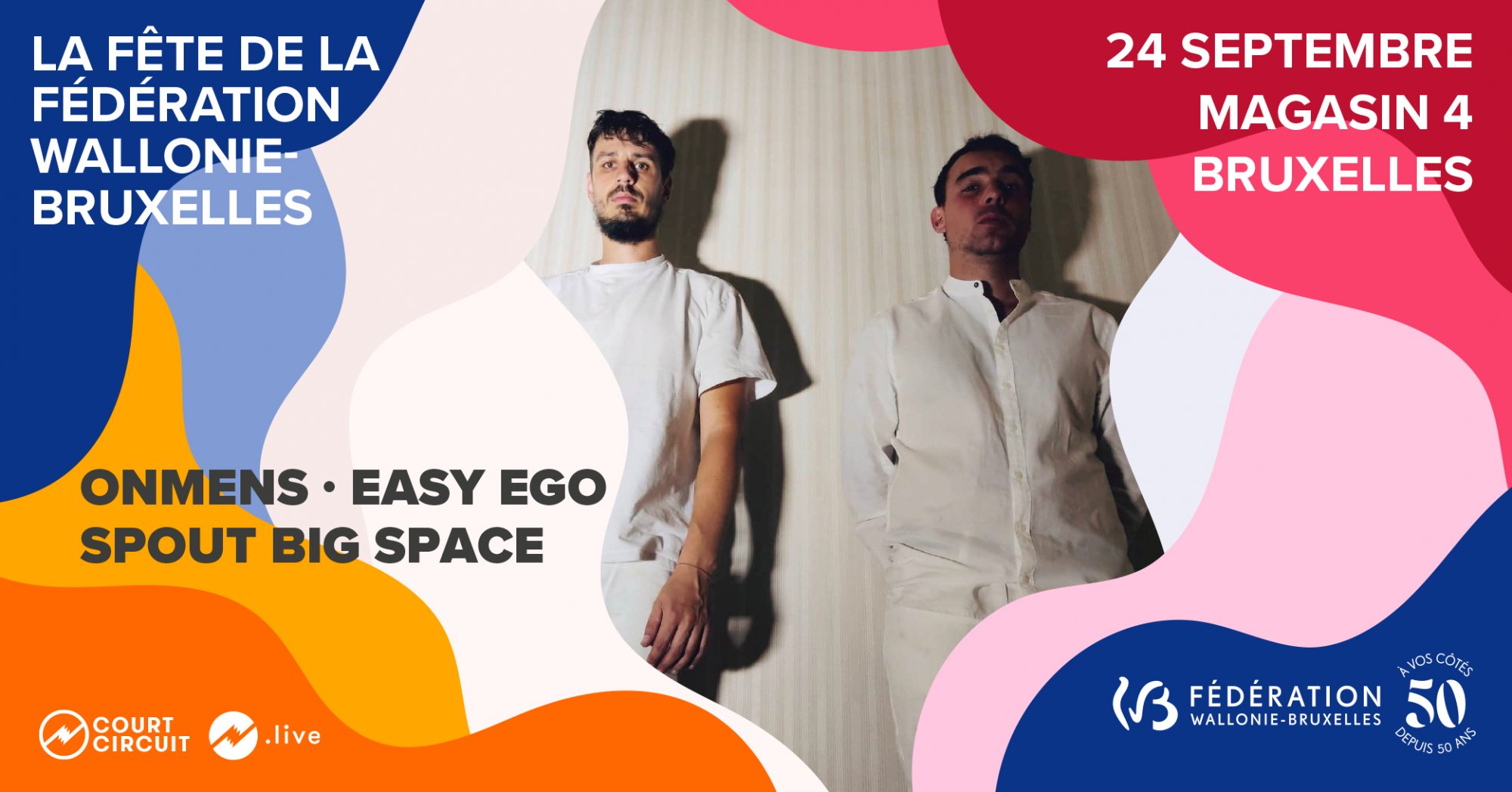 »
Onmens
(Noise / Electro)
Forged in the filth on the floor after the collapse of Belgiums rave-generation, Onmens sets out to violently beat the party back into electronic music. With influences varying from techno over Hardcore to noise and punk, the duo pushes buttons with their deliberately left-field sound. Onmens seeks to keep you dancing immersed in a trancelike state while blood gushes from both earholes. Their tracks are the soundtrack made for that time of night when the mask comes off and the senses start failing.
...
»
Spout Big Space
(Punk / Rock / Garage)
"Bordel, c'est quoi cet engin ?"

"Paraît que le rock est mort. Minute! Spout BigSpace a encore quelques droites bien senties à balancer à son cadavre fumant. Né sur une faute de frappe et dé- puis recomposé à l'infini, le groupe nommé d'après le défunt satellite russe n'a qu'une certitude : s'éloigner coûte que coûte des trajectoires toutes tracées. Ca gueule avec un sens de la mélodie, ça se convulse en bousculant les premiers rangs et ça coche même la case du charismatique leader qui emmène ses musiciens jusqu'aux tréfonds de l'enfer. Là où il fait chaud, moite et bon vivre. Désolé le rock, à la place d'asséner le coup de grâce, le groupe bruxellois a réveillé les morts " Camille Loiseau - Journaliste

Leur recette pour infiltrer vos esprit ? Du rock,
quelques météorites, une pincée d'alcool, un
zeste de romance, une cuillerée de perversité et une bonne dose d'énergie ! Leur obsession ? Que vous dansiez jusqu'à vous liquefier en une flaque de sueur ! Leurs influences terrestres ? Violent Femmes,
The Cramps, Fidlar, Bob Log 3, The Stooges,
Bonaparte, The Hives.

Vous devez les écouter car dans le cas contraire -et vous le savez très bien... - vos enfants et petits enfants vous en voudront à jamais. Vous savez qu'il y aura un avant et un après Spout Big Space. Alors pourquoi perdre votre temps ? Pourquoi se ranger du mauvais côté de l'histoire? N'hésitez plus ! Epargnez-vous de nombreux problèmes et choisissez l'avenir, assouvissez votre curiosité, ouvrez votre conscience à Spout Big Space!
...
Du fin fond de l'enfer du Rock'n'Roll, Easy Ego exsude son chemin d'un enregistreur cassette pourri vers le public. En mission pour ramener la musique la plus immorale, simpliste, grasse dans les clubs, le groupe est composé par quelques personnages emblématiques de la scène underground bruxelloise. Détestez les, critiquez les, débattez les seul à la maison devant votre pc, mais demandez vous si vous êtes vraiment prêts à les adopter.
...